All Words & Pictures By Drew Jessup
There's just no place like Paris. From the architecture to the people, the Eiffel Tower to the cobblestoned streets, the fashion, the history and tradition it's a magical place for discovery. The number of times I got lost in a moment walking on the streets fascinated by every little scene unfolding in front of me was feeling alive in it's purest form.
I was in Paris with my pal, Andy, from March 2nd - 6th for my Project87 item: #2 Go to Paris Fashion Week. The trip in general, starting on February 24th in Milan, was a bit of a go-with-the-flow happening. We found ourselves in Amsterdam and decided on Friday the 2nd we would train to Paris. Not knowing where to stay, Montmartre was a frequent suggestion and booked an Airbnb there the day before our arrival.
Located in Paris's 18th arrondissement
Montmartre is located on the northern side of Paris, up the most significant hill in the 18th Arrondissement, overlooking the entire city. I had never been to this area but was excited to see what all the hype was about. It didn't take long to realize why people loved this little village, it's cobblestoned streets, its rich history, and its views of the city. Once home to many famous artists such as Pablo Picasso and Vincent van Gogh, this place is oozing with inspiration.
Out of the whole trip, considering everything Paris has to offer, exploring Montmartre was a highlight. We stayed on the lower side of the hill near a lot of restaurants. One morning we had the chance to climb the hill and discover what the top had to offer, and it did not disappoint. The most notable attraction at the peak of the hill is the Sacré-Coeur Basilica, and the view from there is truly spectacular.
Every street you come to, every gap between buildings is its own form of glamour. It's one of those places where no matter how many pictures you take you can never truly capture the beauty of it. It's a form of paradise that you just need to experience on your own with your eyes and a couple deep breaths. I can't tell you what it's like to start your day in this neighborhood of Paris, but I'm a huge advocate for you finding out for yourself. It's just breathtaking, and if you don't believe me just ask Van Gogh.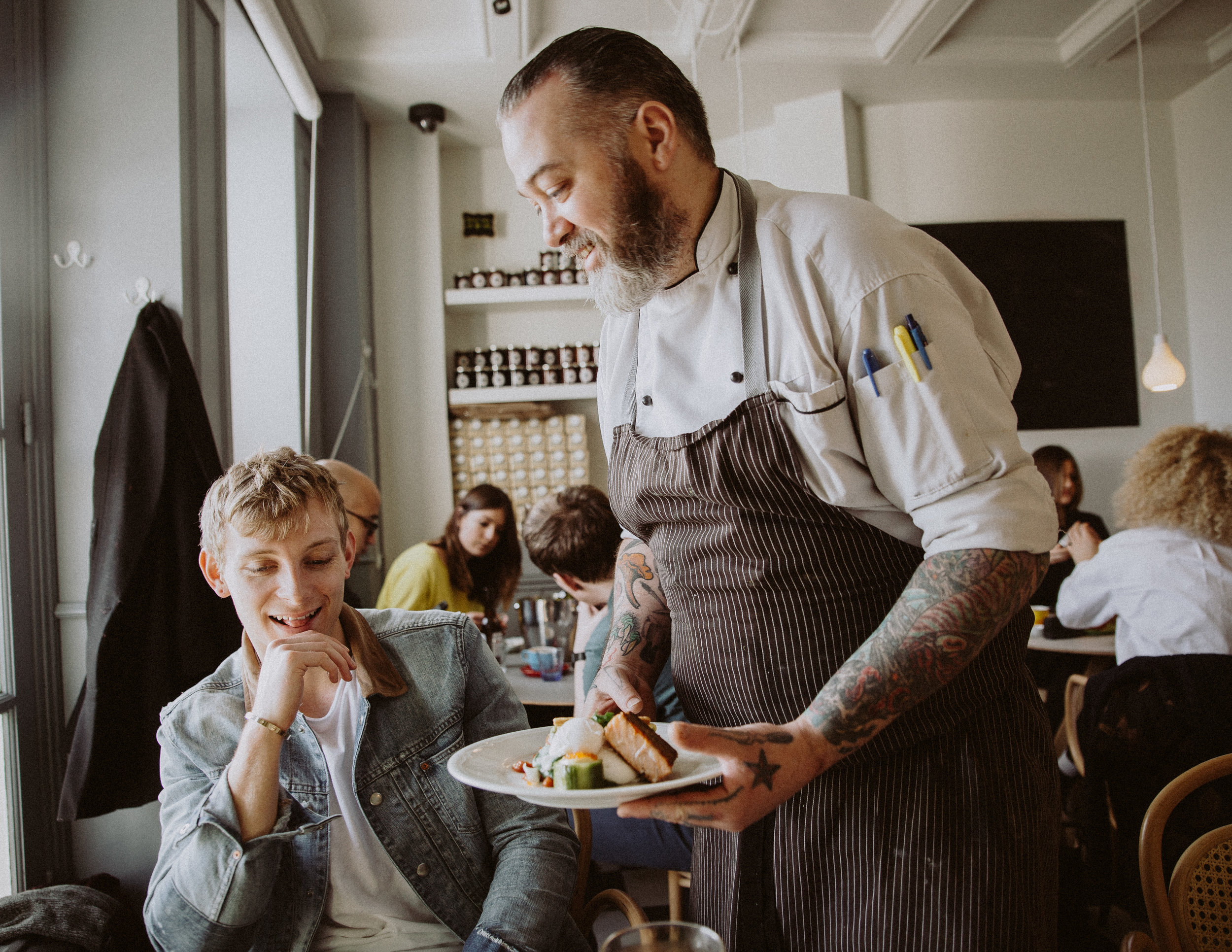 Brunch is always my best-documented meal and typically contains my 'can't-miss' places, too. Out of all the options below brunch was by far my favorite and if you follow this guide at all, those options are my best suggestions. While I'm traveling, I mostly stick to a brunch & dinner schedule, especially in Europe where the restaurants usually close in the middle of the day preparing for dinner. Here are the places we loved, including the dishes we tried that were delicious: *Pro tip: Eat as many baguettes as possible*
The Brunch Options:
ALOHA CAFE
32 Rue Pierre Fontaine,
A cafe in Montmarte offering healthy eats with a tropical vibe.
They have a pretty good selection, but we ordered:
Both were out of this world and the coffees good too!
SCANDLE
68, rue Blanche - 9th
This is one of my favorite spots, ever. Not only are they a restaurant, but they also sell clothing, and host their own online radio show, and the owner is 21 and runs it with all of his best friends that are the same age. It's so cool.
THE FOOD:
They serve a buffet style brunch with three small courses, freshly squeezed OJ, and coffee. The courses change but ours were:
Sardines on toast
Mushroom Creme Soup
Smoked ham, cauliflower, zucchini
THE HARDWARE SOCIÉTÉ
10 rue Lamarck, 18th
An Australian Cafè originally from Melbourne. Located in Montmartre and right by the Sacré-Coeur Basilica. Perfect start if you're going up the hill to see the views.
This place truly spoiled us. Jess, the chef, on top of being a fantastic cook, was a world class guy and customized all of his dishes to meet our dietary needs. Everything was phenomenal from the staff to the decor, to the food.
We ordered:
House-made Iced Tea
Roasted Mushrooms (That Jess made without dairy)
Scrambled Eggs
Salmon Millefille
Soul Kitchen
33 rue Lamarck, 18e
"A little canteen snuggled up against the Montmartre steps, Soul Kitchen is a delightful café-restaurant overseen by three charming, inspired lady chefs – just the sort of place you'd want as your local" - Timeout Magazine
We ate at Soul Kitchen our final morning, with our bags (camera packed), and walked into this adorable place that was jam-packed. We actually left and then came back an hour later when it had quieted down, and it was so worth it. The staff was some of the friendliest we experienced our whole trip and had this feeling throughout that workers, owners, brunchers all just really enjoyed being there.
They offer three predetermined dishes, with salad and dessert. Once the dishes are gone though, they're gone, which was the case with that morning's most popular option by the time we came back. I had the quiche, and it was one of the best quiche's I've ever had. This place is worth the wait - if there's a wait, there's often a reason, and this place lives up to it.
The Dinner Options:
Chez Omar:
47 Rue de Bretagne
"The best couscous I've ever tasted"- Andy McCune
This spot was a bit nostalgic for Andy and I as they previously only had one other location in the world which was located in our neighborhood in Williamsburg, Brooklyn - which we loved. One evening we went to go eat there, and there was a sign that they were closed, but to visit their primary location in Paris. So our first night in Paris we went!
It's on the more affordable side to eating dinner in Paris, but the second dinner hour comes around this places fills up FAST and for good reason. It's loud, a bit hectic, red wined stained paper table clothes, waiters with white aprons dirty from food, but it all feels right.
We ordered (and probably the only thing you should order because it's so good):
Cafe Le Nazir:
56 Rue des Abbesses
This place isn't a must-go, but you can sit outside on a main street in Montmartre, and Andy had an incredible beef stew.
We ordered:
La Vache Et Le cuisinier (The cow and the cook)
18 Rue des 3 Freres
One of our last dinners we were craving a significant portion of meat, something France doesn't seem to offer (probably for good health reasons, but nonetheless) - The Cow and The Cook, seemed appropriate.
This place is cool, low-key, but with a sort of dark, romantic, sex- appeal. I would love to go on a date here (with a meat eater). One of my favorite parts is their bread, not only delicious but comes with complimentary bore aged meats which were melt-in-your-mouth good.
We ordered:
Leg of Lamb with Vegetables (A special that evening)
300g Beef Fillet with Fingerling Potatoes
L' Escargot Montorgueil
38 Rue Montorgueil
If you have any interest in trying escargot in Paris DO IT. I did, and if you're interested in the full story check out: #52 Try Escargot in France.
I don't know any other options, but L' Escargot was a wonderful first-time experience.
We ordered:
6 Traditional Snails

Traditional Snails: "Large Burgundy snails in garlic and parsley butter a venerated recipe since 1832"
The Drink Options:
Hotel le six
14 Rue Stanislas
Their rooftop is open to the public and has one of the most incredible views overlooking Paris, with the Eiffel Tower in view. Drinks are expensive, but worth it for the sights.
La Bascule
24 Rue Durantin
They have a great selection of wine and liquor, and food if you're looking for a bite too. We got a window seat and sat for a few hours drinking wine. A great atmosphere and relaxed place to be with a good friend.
While traveling, I always have to dedicate a couple hours every other day or so to catch up on emails, editing photos, writing posts, etc. It's just a part of the deal, so I'm continually searching for good work spots when I visit cities, and the below were the best options we found.
BEST OPTION:
HUBSY CAFÈ & COWORKING
41 Rue Réaumur
"A coworking café with a cozy atmosphere and delicious food." - Timeout Magazine
This was a really great place we found and ended up spending 4 hours here.
How it works:
Payment: You punch in a card when you get there and then when you're leaving punch out and pay for the amount of time you spend.
Pricing:

First hour: 5€
Extra half hour: 2.5€
5 hours or more: 24€

Food & Drink: included and as much as you want, with excellent coffee/tea options and good enough snack options.
Wifi: Great!
Atmosphere: Quiet, but in a people are genuinely here to get shit done way.
Extra: Phone booths out back if you need to take a call
2nd OPTION:
CRAFT CAFè
24 Rue des Vinaigriers
Craft seems to be the more popular co-working concept in Europe, as there were a lot of options like them, and less like Husby. It works similarly to Hubsy but varies just a bit. It's also 5€ an hour, and though drink and food aren't included, everything you buy subtracts from that hourly price.
*Example: you spend 1 hour there (5€), but you buy two espresso's (4€/ each), you would owe 8€ just for your espresso's, and your hourly price would be covered. Or you can buy nothing and just pay the 5€ an hour.*
The wifi wasn't fantastic, which was surprising given it's a co-working space. Probably the only perks over Husby are it's a bit more social if you want that, and their food options are better. Outside of that, Husby is a clear favorite.
TO SEE:
Go see everything. We did. Here's what I photographed.
THE EIFFEL TOWER
DUH. Walk the streets around and go to the top. You will not regret it. Here's my experience: #14 Go to the Top of the Eiffel Tower
Sacré-Cœur
And while you're up there, walk around, visit the painters, etc. One of my favorite areas to explore.
Notre-Dame de Paris
Arc de Triomphe
Everything else...
TO SHOP:
Blue garage clothing
17 Rue Vavin
This is such a rad shop and the only one that currently exists. Such a vibe and ended up getting my favorite jeans and sweatshirt from here ever.
LDB
There are a few locations throughout Paris. Though there isn't a lot of hype around this brand at the moment, their making some really cool designer clothing that's minimalistic with an artistic spin. I loved the store, their message, and their clothing.
Subway:
Don't be afraid to take the tube. It's actually straightforward to navigate and by far the quickest and cheapest mode of exploring the city. You also get a better understanding of real-life culture there.
Explore & take lots of pictures
Paris is such amazing city to explore everywhere, watching scenes unfold, and letting your curiosity lead your adventure.
DON'T FEEL THE NEED TO BE TOO FANCY
Some of my favorite memories from this trip was just sitting in a cafe drinking great coffee. One of the greatest moments of my whole year was when Andy and I bought chicken soup on the street, walked into a bakery and bought a fresh baguette, and sat on a park bench on Montmarte eating.
Hope you enjoyed my guide and get to experience some of my favs, while also discovering your own!
Xx Drew Jessup