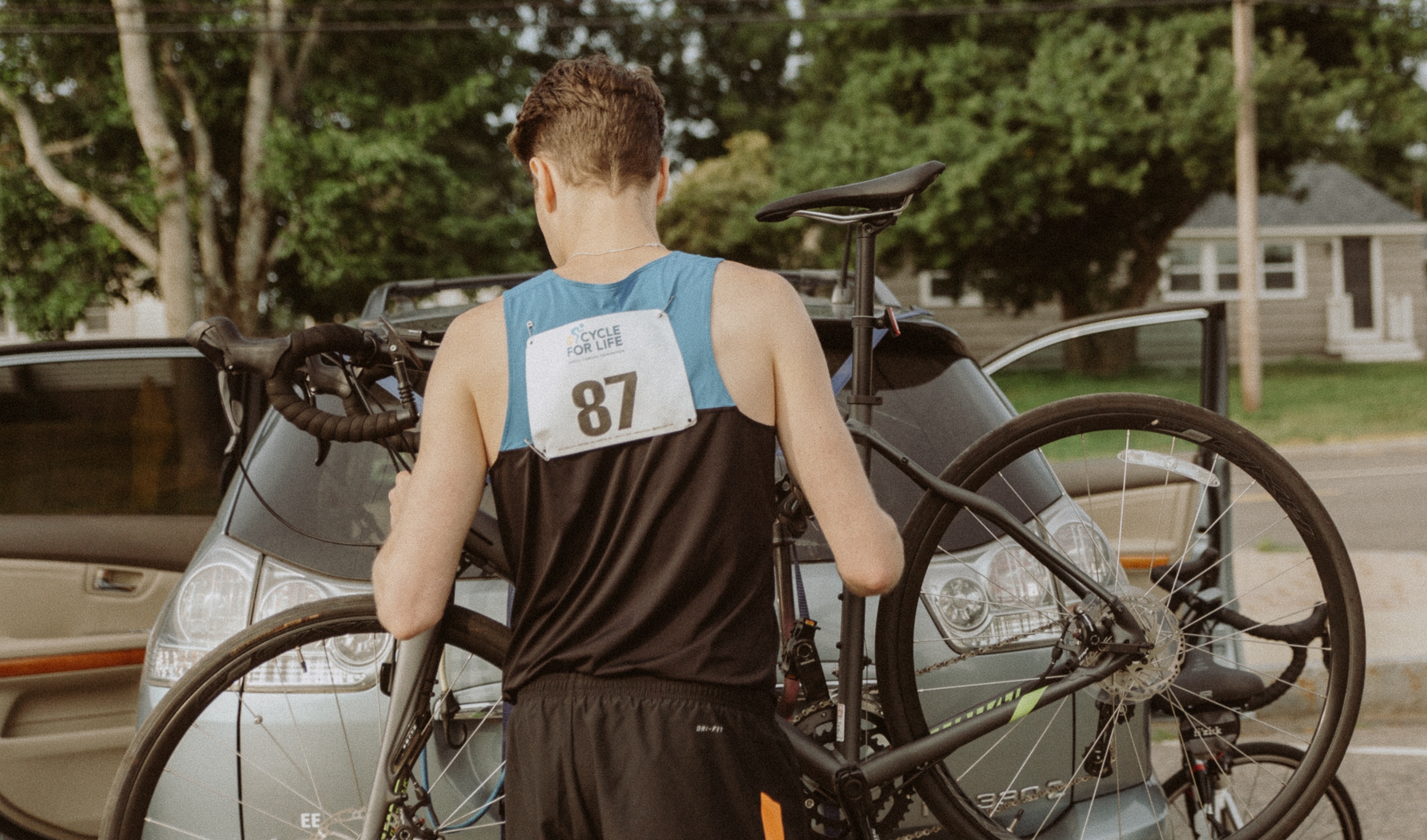 An incredible thing happened during this item that I still have chills thinking about. But let's start at the beginning...
A couple of years ago my mom found cycling and fell in love with the sport. It started as something she could do for exercise that was low impact and something she actually enjoyed doing. She enjoyed it so much that rides got longer, her bikes got better, she found cycling communities in the state, and finally she started doing races with some her biking buddies.
I've always been an extremely active person, but I never got into riding bikes for sport. I had my own exercise escapes that I had found and loved already and on top of that cycling is a sport with an expensive buy-in. Out of all the races she's done I had never thought about doing a race with her. It never even really occurred to me until I was making the list, thinking about things I wanted to experience with people that they loved and was important to them.
Maine having such severe seasons, bike races are typically may - early October with a majority of them landing in the prime six weeks of summer. We had tried to lock down a race earlier in the year but trying to coordinate everything throughout the year we just weren't able to find a weekend we could both commit to too far in advance. I was supposed to be going to Munich the second weekend of July, which had to be pushed to the following weekend. I had found out the last night I was home for Father's Day and knew I had seen a bike race for that weekend the last time I was doing research. The race was called the Seacoast Safari, which was to raise money for the Cystic Fibrosis Foundation. There were three different lengths you could ride of 30, 65, and 100 miles (which is pretty typical variety of distances for races) that starts in Kittery, ME (on the southern border of the state), and bikes through beautiful Portsmouth, NH before returning back. I brought up the idea to my mom that evening, she gave it 24 hours of thought and then called me when I was back in Brooklyn the next day to say she was in and I would just need to register the two of us - which I immediately did right then. Myself and then my mom.
Friday - July 6, 2018
I took the bus from NYC to Portland, ME because one of my best friends was having is bachelor party that weekend at home.
Tuesday - July 10, 2018
Another one of my best friends, Joe, has a great road bike and was generous enough to let me borrow it for the race. Thankfully he's a similar size to me so I didn't have to modify it at all.
Wednesday - July 11, 2018
I woke up and took my first ride around one of the lakes in our town, which is about a 10-mile loop. I wanted to make sure I felt comfortable with the gears before race day.
Thursday - July 12, 2018
My mom and I took our first ride together. We did a different 8-mile route from my house and we had so much fun. I felt comfortable with the gears and was getting increasingly excited for race day on the 14th.
Friday - July 13, 2018
My hometown is still on the southern side of the state but about an hour and change into it. Kittery is located all the way South and was going to be an hour and 20 minute drive. Registrations began at 6:30, the race began at 7:30, which meant it was a 5:20 AM wake up call.
Race Day
July 14, 2018
5:20 AM my alarm went off. All of our stuff was packed and ready to go and we headed out.
We made it to Shapleigh School, Kittery's elementary school, and walked over to the registration tents.
The race volunteers got us set up, gave us our race bibs, and we filled out the emergency information on the back side. As two responsible adults, we headed to the line... for the restrooms, which was long. While there, as we were chatting, it was an opportune time to pin our bibs onto our backs. I gave my mom my bib and was mistakenly pinning it the wrong way, so my emergency information was on the outside instead of my bib number. The lady behind my mom so nicely said, "Excuse me! That actually goes the other way, so the bib number is showing!" so my mom turned it around... and said...,
"DREW! UH.. this is number 87! Did you plan this? Did you know that?"
I had no idea what she was talking about. I turned around confused and looked at the bib.
'87'
EIGHTY-FREAKING-SEVEN
I said, "Wait... what... is that our team number?!" My mom had number 88. I looked around everyone else had their own numbers. Your bib number represents what number person you were to register the race. Somehow, in the randomness of this race, of my mom waiting a day to think about it, calling me precisely when she did and me naturally registering myself first.. I was the 87th person to register for the race. I was speechless. I still am.
We finished at the restrooms and got ready for the race.
A few pre-race announcements and we were off!
Then part two to this story happened. We were just about half through our race and on the final long stretch before the midway stopping point. My mom and rode pretty much side by side the whole time, but for a small stretch I lead and gave me a moment to think and reflect. And then I realized something. Out of coincidence the race happened to land on my grandmother's birthday, who I was doing all of this in honor of. We knew it was, and we had plans later on with the rest of my family to celebrate her for item #34 Have an ice cream sundae on my grandma's birthday. Then I realized something and looked back at my mom to yell,
"OH MY GOD! GRAM TURNED 88 TODAY!"
"I KNOW!"
"MOM YOUR BIB NUMBER!!!"
"OH MY GOSH!!!!"
My heart's skipping a beat thinking about it. I was so caught up in emotions. What are the chances of that?! On my grandma's birthday. Number 87 & 88. How could it all have come together so perfectly, that at the moment we agreed and I registered us that was where we fell in line... Something the universe is surely smiling about. Thank you. I can't tell you what that reassurance for the paths I'm choosing take means to me.
And then 2.5 hours later we crossed the finished line.
These were moments I will never forget. My mom and I had so much fun. I'm excited to do more with her in the future.
Since it was only 10:30 by the time we were leaving, we headed back to Portsmouth for brunch and to just reflect and enjoy getting out and doing something together.
What a truly special, special day.
#85: √
ONWARD...
All my love,
Drew Xx